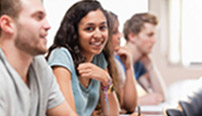 Am I eligible?
Eligible students are Minnesota residents attending eligible postsecondary institutions in-state or out-of-state, and nonresidents attending eligible postsecondary institutions within Minnesota. Students must be attending a SELF eligible school at least half-time and making satisfactory progress. A SELF eligible school is one that has a participation contract with the Office of Higher Education.
How much can I borrow?
| Program Type | Annual Limit | Cumulative Limit |
| --- | --- | --- |
| 4 Year | $10,000 | $50,000 |
| Graduate | $10,000 | $70,000 |
| Other | $7,500 | $37,500 |
Current Rate:
3.3%*
*As of 10/1/2013. Subject to change quarterly.
---
About Us
The SELF Loan is a long-term, low-interest educational loan primarily for Minnesota students who need assistance paying for education beyond high school. The SELF program has provided over $1.8 billion in loans to students since 1984 and is administered by the Minnesota Office of Higher Education, a state agency.
Latest News
New Look for Website
The SELF Loan website has a new look to make the site more user friendly. We hope you like the look. If you have suggestions for improvement please let us know.
The new look is also associated with a change in the web address. The new address is www.selfloan.state.mn.us.